MessengerCTI.Desktop for Call Center Agent
If the MessengerCTI user has enabled the Call Center agent option in the PBX, in the application, the functionality related to Call Center queue support is available in the application, and in the operating system status bar there is an additional icon called Agent Status:

and in the main window of the application – CC tab.
In the CC tab, depending on the adopted configuration, applications are displayed:
Up to 4 programmed buttons with its current status for a given agent:

Login/logout from the CC queue
Enable/deactivate agent interruption

Supported queues with the number of agents logged into the queue and the number of currently waiting in the queue
Missed calls list – numbers/contacts to call back.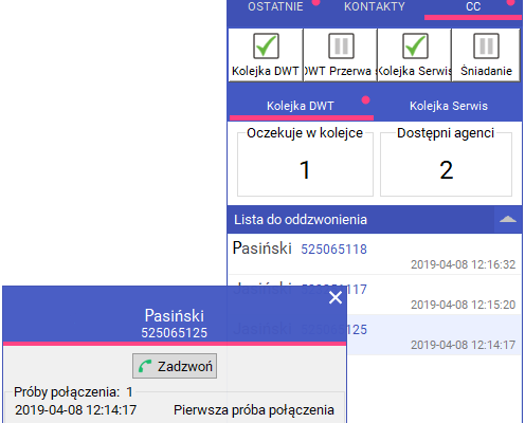 If you use the call-back list, an additional window appears with the possibility to establish a call and a field to confirm whether the call-back has been successful.