The solution is dedicated  to the construction of broadcasting and sound systems for shopping malls, production and warehouse halls, office buildings, hotels, offices, hospitals, sports facilities and other public places. The Slican audio system is built on the basis of NCP telecommunications servers operating in the IP network.
The use of the IP network as a transmission medium allows the signal to be transmitted virtually anywhere. The use of active end loudspeakers (with built-in amplifier, with local and remote volume control) allows for flexible volume adjustment for each  place separately. The system can be freely expanded at any time, in any place designated by the user, in rooms or in open spaces.
The whole configuration  is carried out using the control panel application – ConfigWEB, while the new AudioMAN application  has been prepared for system management, thanks to which the user has the opportunity to make changes to the supervised sound sources for individual zones and independent adjustment of  both  music and  messages for each zone.
System operation
System operation
The Slican audio system can broadcast music, advertisements or messages prepared by the user in a continuous mode. If the user wants to send a message, he makes a call from the telephone or the microphone panel by selecting the device number (column, loudspeaker) or zone (group of loudspeakers), he can also use the appropriately programmed telephone button CTS-220IP.GNM or the AUD.IP-DMIC1 microphone panel. The played music is smoothly muted, there is a sound signal informing about the start of delivering the message, e.g. a gong and the person initiating the call transmits the prepared information. After the message has been transmitted, a signal will be played to inform you that the message has ended. Then the speakers can go back to the music broadcasting mode.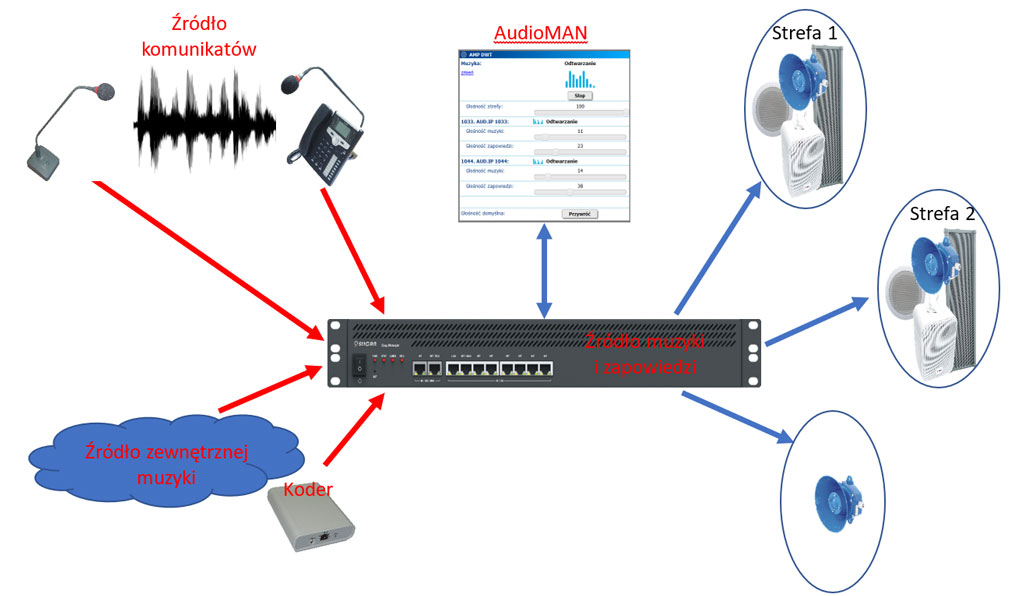 The volume of the end speakers can be adjusted. Adjustment can be made separately for music and announcements remotely via ConfigWEB and AudioMAN, or locally by adjusting the switch of the audio source being played.
In the Slican audio system, we can create ZONES – which will apply to a loudspeaker or a group of loudspeakers (AUDIO.IP-AMP10), depending on the recipient's needs, many zones can be created.
On the other hand, broadcasting GROUPS of announcements, the components of which may be any selected loudspeakers or entire zones, allow for such a configuration, where the places of announcing messages are independent of the music playback zones. Multiple such groups can be established in the NCP server.
Selecting a paging group number allows the user to:
voice announcement using a microphone – AUD.IP-DMIC1 or a microphone panel with a telephone – CTS-220.IP-GNM
automatic playback of a previously prepared single announcement (from a file)
cyclic playback of the same announcement (from a file)
preceding and ending the announcement with a "gong" signal or any other signal of your choice.
Managing the Slican audio system is done using the AudioMAN application.