Slican CTS-330.CL is system phone which require sophisticated phone system and effective call and contact managing. It is equipped in high quality color, touch screen which ensure perfect visibility in different lighting conditions. Phone can be used immediately after switching it on, without complicated and time consuming configuration.





Phone profile is created and stored in Slican server memory. Due to perfect voice quality and simple maintenance, this phone is smart tool for everyday work. Programmable touch and standard buttons of CTS-330.CL enable to unlimited assigning functions, services or contacts.
Phone perfectly looks on your desk. Due to light and ergonomic handset as well as optimal length of handset cord phone your phone is sovereign partner in everyday work.
CTS-330.CL enables operation with headset or in speakerphone mode. Color screen, clear icons and large number of programmable buttons enable to use many professional functions.
Features
Features
DISTINGUISHING FEATURES:
Color touch screen with area of 5 programmable buttons
Navigation key with 4 way cradle button
Clear and dynamic audio
Different ringing for different call categories
Support of 5 lines
The ability to connect up to 4 CTS-338 consoles – up to 152 additional programmable buttons
Sockets for headphone and microphone
The ability to use wired headphones connected using 2×3.5 mm JACK connectors (max. headphones impedance – 40 Ohm)
The ability to use wireless headphones with the EHS (Electronic Hook Switch) function through the adapter CTS-DHSG
Support of conference call
Realization of standard PBX functions
Support of sophisticated call recording functions
Support of mobile work – Slican MobilePhone
Lock / activation of phone by private user PIN
List of missed calls / answered calls / dialed numbers
Public and private phonebook as well as list of extension numbers
Presentation of time and cost of call
"Plug and Play" installation
Saving energy – ECO functions
Synchronization with PC – Slican CTI Communicator
Functionality
Functionality
FUNCTIONALITY FEATURES
Voice
HD Audio voice quality – effective sound emitter in phone base
Mini-jack type headphone terminal
Speakerphone mode – full duplex
10 ringing tones
Individual door phone ringing
12 adjustment degrees of ringing volume
Adjusted volume of speakerphone, handset and headset
Display and user interface: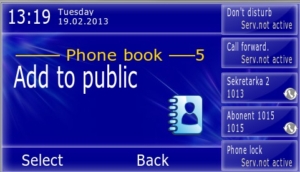 High quality color, touch TFT screen, dimensions 90 mm x 55 mm  and resolution 480 x 272 pixels
12 degree of display brightness
Energy saving display functions
5 programmable touch buttons with BLF* on the screen
Phone own name
Presentation of hour, day of week and date
Presentation of call duration time while conversation
Touch buttons for menu, phonebooks, contacts and services
Clear icons, different font colors, intuitive menu
Menu in Polish, English and Germany
Autoredial
Synchronization with Slican server – installation and update of phone
Keyboard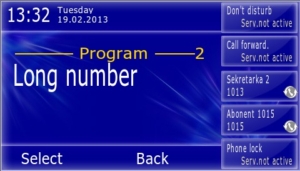 Navigation key for direct function selection – during call it enables smooth volume adjusting
19 programmable, backlight buttons with BLF*
5 VIP touch buttons on screen – programming of 5 lines, VIP contacts or PBX services
5 main operation buttons:
5 main operation buttons:

SPEAKER – speaker icon
HEADSET – backlight button for headset
CALL END – buttons for finishing call
TRANSFER – button for transferring call
REDIAL – redialing last dialed number

3 backlight function buttons:

MUTE – mute
PLUS/MINUS – volume adjustment
RING – optical ringing information

Buttons for direct access to service (programmable):

DND
Call forwarding
Park
3PTY
Urgent call
ESC  button – unconditional exit from phone menu to main screen
Speakerphone mode
Headset – backlight button for switching it on
Smooth adjustment of ringing and audio: +/- button
Individual doorphone ringing
Program of intelligent screen touch buttons
Extended call history preserved also after Slican server reset
Call and contact functions
Private and public phonebook as well as extension number list – up to 10 000 of contacts, up to 20 000 numbers and 1 000 groups
Entry with name and number
Graphical subscriber status presentation
Phonebook synchronization with PC – Slican PhoneCTI / WebCTI or Slican TelefonCTI
Phone synchronization with MS Outlook® – Slican TAPI
Simple dialing
Defining up to 5 lines on touch screen – VIP buttons with BLF*
Creating conferences and 3PTY using contact list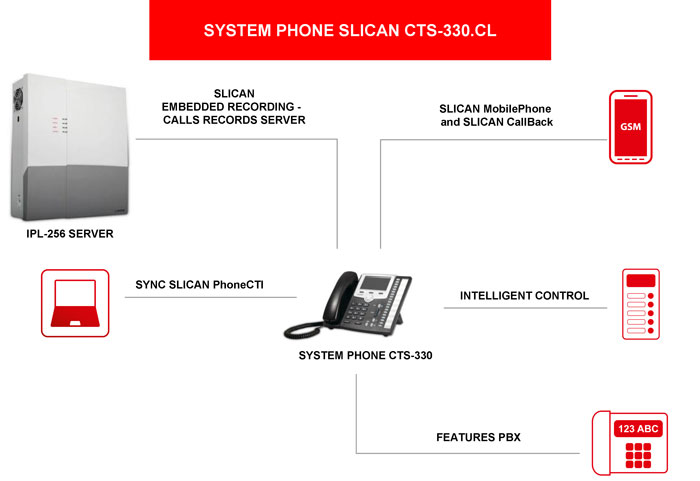 Received calls / missed calls / dialed numbers history – max 300 000 entries
Realization of mobile services – Slican MobilePhone and Slican CallBack
Recording calls – Slican Embedded Recording
Synchronization of phone settings with Slican CTI Communicator
Lock / unlock phone (subscriber PIN)
Realized PBX functions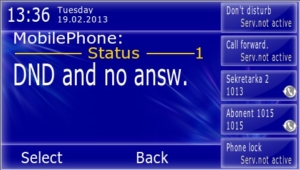 Conference calls and 3PTY calls
Call recording – Slican Call Recording
Remote work and mobile workers – Slican MobilePhone and Slican CallBack
Voice mail
Hold / reject / resume call
CLIR and temporary CLIR
Waiting call information
Manual call transfer
Automatic call forwarding while busy, DND or not answer
Lock anonymous or malicious calls (MCID)
Service "Do not disturb"
Music on Hold
List of answered / missed calls
Service "I am there" – it recall subscriber profile on any phone
(*Busy Lamp Field / Information about busyness)
Technical data
Technical data
Hardware data
Automatic synchronization with Slican server – Plug and Play installation
Automatic phone firmware update
Phone dimensions 245 mm x 227 mm x 80 mm
Weight 1005 g
Power supply from PBX, local power supply 12V/1A as option
Black color with silver frame of touch screen
Ergonomic angle of phone slope
Wall mount possible
Terminal for headphones (mini-jack) (max. headphones impedance – 40 Ohm)
Terminal for microphone (mini-jack)
USB 2.0 – Mini-A type
Accessories
Accessories
Slican CTS-338 console
dedicated to the CTS-330 and CTS-220 Slican system phones series
38 programmable keys (2×19) – you can assign to them any internal or external number, program PBX function, save remote controller / automation function such as  door or gate opening etc.
to the phone can be connected at the same time four consoles – you get 152 additional programmable buttons
available in black color
programmable buttons with LED signalization presenting the status of extension assigned to a button
it requires external 12V PS or PoE for IP phone
Slican CTS-DHSG adapter
dedicated to the CTS-330 Slican system phones series
allows to connect wireless headset with the EHS (Electronic Hook Switch) function equipped with DHSG interface. This feature allows you to answer / end a call without lifting the handset
headphone adapter requires the use of power supplier for CTS-330 series phones