Slican Call Center
Each NCP server is equipped as standard with call center software package and enables the organization of a service center with consultants efficiently servicing customers and telephone traffic organized in appropriate queues and waiting connections in them, so as to ensure a satisfactory level of customer service.
In customer service departments of many companies, various indicators and parameters related to the quality of customer service and the level of customer satisfaction are measured. Thanks to the analysis of telephone traffic statistics, we can manage call center systems and thus increase the effectiveness and quality of work of consultants, salesmen or agents.
| | |
| --- | --- |
| | DON'T WANT TO LOSE CUSTOMERS DUE TO MISSED CALLS ? |
| | DO YOU WANT TO COLLECT MORE INFORMATION ABOUT YOUR CUSTOMERS AND WANT TO INCREASE THE EFFICIENCY OF YOUR COMPANY ? |
| | DO YOU REALIZE TELEPHONE CAMPAIGNS ? |
| | ARE YOU INTERESTED IN ADVANCED CALL STATISTICS ? |
| | DO YOU WANT TO ENSURE THE SECURITY AND GOOD MANAGEMENT OF YOUR RECORDED CALLS ? |
| | DO YOU CARE ABOUT THE PROFESSIONAL IMAGE OF YOUR COMPANY? |
| | |
| --- | --- |
| WE HAVE A SOLUTION FOR YOU | |
Slican CallCenterMAN is a mangement and work control software in call center departments such as all kinds of customer service offices, sales departments or service centers. Monitoring of work data in such places is a huge amount of data, which is difficult to process manually. Dedicated web application provides managers with many tools facilitating management and optimization of operating costs. The application is available from any web browser.
Characteristics
---
state view of queues assigned to Manager, organized in separate windows (CC queues windows are automatically refreshed to reflect the current state of work of the queue and its agents),
presentation of the total number of calls with customers in a specific time unit (hour, day, week, month), divided into telephone contacts (incoming and outgoing calls), redirected through the queue,
presentation of the total number of contacts ineffective in a given unit of time (abandoned connections, missed calls),
presentation of the total number of contacts with customers in a specific time unit successfully completed in the first contact,
call-back of abandoned and lost numbers,
analysis of working time and events of Agents (e.g. salesmen, consultants or service technicians)
preparation of schedules for distribution of reports (daily, weekly, monthly),
generation of graphs of average waiting times of incoming calls and calls with exceeded SLA time (Service Level Agreement),
detailed preview of calls and event logs of agents (e.g. salesmen, consultants or service technicians) and queue connections,
a list of Agent's tasks (e.g. salesmen, consultants or service technicians) - numbers to call back together with a logbook,
System configuration
---
The order of configuration of the call center system:
actions performed by the PBX admin from the ConfigWEB level

assigning call center agent functions to specific subscribers
adding the number of waiting calls
creation of accounts with rights to manage call center (account: Manager)
assignment of Agents to the Manager: all Agents, sets of Agents and Agents not assigned
assign queues to the Manager
giving the Manager optional privileges such as listening, call override or whisper.
configuration of break codes for SIP, FXS and CTS phones
button configuration for the CTS subscriber

activities performed by the Manager from the CallCenterMAN application level:

configuration of break codes
configuration of parameters to call-back
creation of report templates
establishing timetables for the distribution of reports
setting schedules for the distribution of reports
Statistics, templates, reports and logs
---
Reports and templates.
The application allows you to create reports based on pre-prepared templates. The manager receives predefined report templates for detailed configuration, specifying whether it is to be a report on queue service statistics, agents and their working time. Generated reports are sent as an email to the managers according to the created schedule. The email message sent contains an attachment with the report name as an HTML file, which can be viewed in any web browser.
The following templates are available:
Call Center queue statistics
statistics of incoming calls of Agents
statistics of Agents outgoing calls
working time of Agents - collective summary
working time of Agents - detailed analysis
Logs.
The logs allow you to view detailed data about queues, calls back, agents' calls and the events called by them. Viewing logs can be filtered by :
indication of the date or their scope
indication of the time of day
selection of the queue
choice of Agent
indication of the type of connection
selection of the event (login, start, end, break, etc.)
MessengerCTI.Desktop for Call Center agent
---
If the MessengerCTI user has enabled the Call Center agent option in the PBX, in the application, the functionality related to Call Center queue support is available in the application, and in the operating system status bar there is an additional icon called Agent Status:
| | | |
| --- | --- | --- |
| | | |
| logged agent | agent's break | logged out agent |
and in the main window of the application - CC tab.
In the CC tab, depending on the adopted configuration, applications are displayed:

Up to 4 programmed buttons with its current status for a given agent:

Login/logout from the CC queue
Enable/deactivate agent interruption

Supported queues with the number of agents logged into the queue and the number of currently waiting in the queue
Missed calls list - numbers/contacts to call back.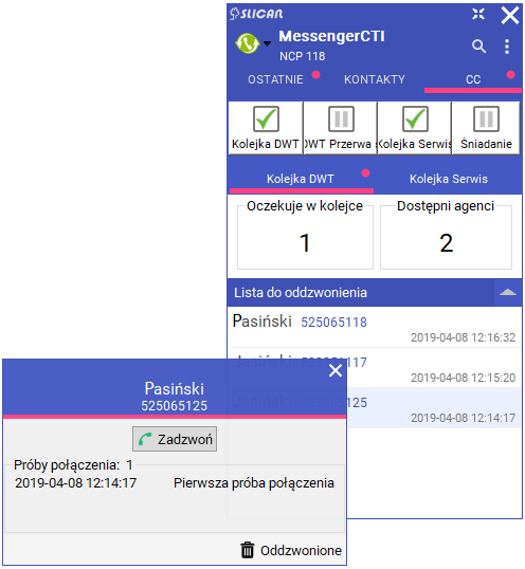 If you use the call-back list, an additional window appears with the possibility to establish a call and a field to confirm whether the call-back has been successful.
Rights and licences
---
The call center user acquires rights to the functionality of the Call Center to the extent resulting from the purchased licenses.
Starting license of Call Center (NCP.CallCenterStart-5A5CW: 5 subscribers-agents + 5 waiting calls in queues)
Additional licenses of Call Center agents (NCP.CallCenterAgent-x: licenses for subscribers with the rights of a Call Center agent where x is the number of agents 1, 5 or 10)
Additional license for another call waiting in Call Center queues (NCP.CallCenterWaitingCalls-1)
Using the Slican CallCenterMAN application does not require the purchase of additional licenses. The rights of the Call Center Manager and their scope are granted by the PBX Administrator from the ConfigWEB level.
Hardware requirements of CallCenterMAN application
---
Slican PBXes:

NCP series servers with system 1.12 or higher

Computer:

Windows 7® or later newer operating system
CallCenterMAN application - available from a web browser at the same address as the PBX with "cc" suffix. (e.g. https://192.168.0.254/cc)
---
| | |
| --- | --- |
| leaflet | |